Milky Way Print with Map
700 x 400mm high-resolution photographic print on 250GSM archival gloss photo paper.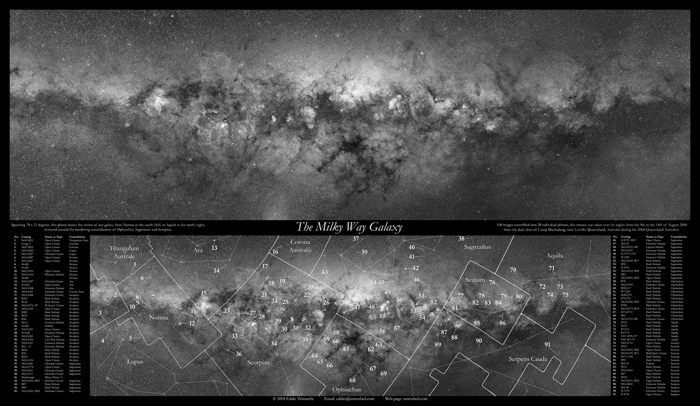 Click the image to see a large (1280 x 743) version

A 700 x 400mm high-resolution detailed photographic print on archival paper with a large image of the Milky Way above a 3/4-sized version with constellation and over 100 bright objects identified by number and lookup table

This Milky Way Mosaic is a greyscale portrait of the center of our galaxy made up of 168, 5-minute photographs taking 6 complete nights from dusk until dawn beneath the dark skies of Camp Duckadang about 2 hours north of Brisbane in Queensland, Australia.

Combined into 28 individual 30-minute images and manually assembled into a single mosaic over a 2 month period, a lot of work was needed to create this special view of our galaxy.

Prints are produced on demand by the photographer, ensuring the same level of care in preparing your print as in taking and processing this magnificent photo of this Galaxy we call home.